Chicago, IL,  – EVERSANA™, the leading independent provider of global services to the life science industry, introduced a new suite of global market access solutions from Health Strategies Insights to help biopharmaceutical manufacturers understand the latest global trends in access, payment, distribution and administration. The new offering, Global Market Access Insights, includes proven frameworks and proprietary methods, as well as access to a robust panel of industry experts to:
Address payer stakeholders' challenges through Global Access Express, which deploys custom research studies to EU5 stakeholders and returns insights within 10 business days.
Provide greater insights on the impact of Evolution of the Global Biosimilars Market and how these blockbuster therapies are evolving in key geographies, including the U.S.
Provide extensive expertise and U.S. Knowledge for Global Market Access to help inform global market access strategies.
"Our clients have invested vast amounts of time and money to bring their innovations to market, so developing the right global market access strategy is critical. With our new suite of research solutions, they can validate market dynamics in more than 14 countries and really understand payer needs," says Rod Cavin, General Manager, Insights Solutions, EVERSANA. "Those insights, combined with our integrated commercial services, help clients achieve commercial success in a rapidly changing global market."
Global Market Access Insights showcases growing biosimilars focus; physician resistance challenge
Based on recent findings there is a renewed focus on biosimilars on both sides of the Atlantic. In the U.S., biosimilars are expected to become a staple of therapy for some diseases by 2020[1], especially since pharmacy and medical directors say they will require at least 40% off net cost to actively switch from branded products. In Europe, a Global Access Express study with national and local payers across EU[2] indicate that despite the immediate uptake in biosimilars, deepening biosimilar penetration is still a challenge, with physician resistance ranking as the top hurdle.  According to the same study, payers report 90% of physicians in Spain resist biosimilars, on average the resistance across EU5 is over 70%. 
Global Market Access Insights also uncovered that the implementation of biosimilar care pathways varies significantly across autoimmune populations.
Implementation of biosimilar care pathways in autoimmune populations 
(Percentage respondents)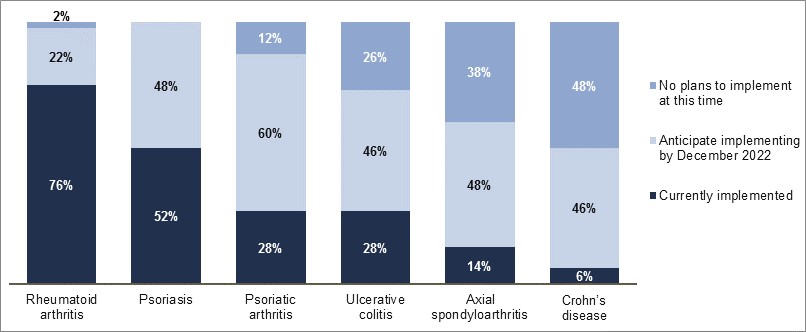 "These vast variances are going to make it a challenge for our clients to maximize their global market access and that's why we are excited to have advanced solutions that provide critical answers to our clients' global market access questions," adds Anita Burrell, Senior Vice President, Global Market Insights, EVERSANA. "These research tools are designed to help our client understand the global trends and be ready to effectively influence payers' reimbursement decisions," Burrell added.
EVERSANA will be showcasing Global Market Access Insights as a silver sponsor and exhibitor at the Pharma Pricing and Market Access Congress 2019, in Amsterdam, on March 19-20, 2019.
To download a copy of the White Paper titled "The Brink of the Biosimilar Revolution" authored by Anita Burrell and referenced in this announcement, click here.
https://www.pharmalive.com/wp-content/uploads/2020/01/Pharmalive_4c-300x37.png
0
0
Administrator
https://www.pharmalive.com/wp-content/uploads/2020/01/Pharmalive_4c-300x37.png
Administrator
2019-03-19 22:31:35
2019-03-26 22:43:34
EVERSANA unveils new global market access research solutions from Health Strategies Insights